Prom Season
Prom Season can be such an exciting time until you get to the part where you rent the limousine or party bus. First all your friends agree to pitch in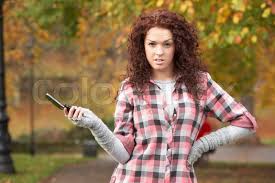 and help pay for it and then back out after you have put down your deposit. Now you have to replace them or lose your deposit!
The limo companies aren't any help because they see you as a kid and do not give any advice or talk down to you like your money isn't just as green as the adults money! Even worse when they don't answer the phone and you leave several messages just to get ONE answer! Oh and the fees! Really? They start at one price and then add all the fees into and now you're paying this stupid amount! Is it really all worth the headache???? The answer is yes….it's your only prom and we will help you!
Price A Prom Limo or Party Bus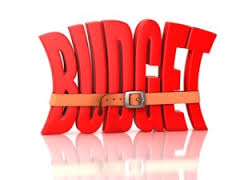 At Price My Limo, we would never speak down to you or ignore your phone call. We like to treat people the way we want to be treated. The first thing you need to do before contacting a limousine company is to talk with your friends. Make sure your parents and their parents are involved on the set budget. This will help your friends understand there is no backing out once the deposit is paid.
Set a budget for each person that wants to go with you. For example, $75 a piece would give you a budget of $600 for 8 people in a Lincoln limousine or a budget of $1500 for 20 people in a party bus. Once you have the budget set, call the limousine service (preferably us) and get the price quote of the vehicle. If the quote is higher than your budget, make a few more calls! The larger the bus/limo and the more time needed, the more it will cost. There is normally a 6 hour minimum on all prom vehicles.
What Is The Best Vehicle For My Prom?

The best vehicle is up to you and your friends! The way to calculate the vehicle you need to fit everyone comfortably is to remember to add 2 to your final count. That will give you some room between each person and also keep in mind the size of all your friends. Ford tells us that a town car will seat 4 plus the driver but from experience it will only seat 2-3 comfortably.  An SUV will seat 7, but only 6 comfortably. A regular limousine is kinda tricky! Most seat 8 adults, but there are some that are made to seat 10 adults because they are longer. So if you have 10 passengers it is best to go see the vehicle in person.
If the limo company tells you that it fits 10, they will not be lying to you, just going off the manufacturers recommendations. The SUV limousines, like the Hummer, Escalade or Excursion hold up to 18 comfortably so its always a safe bet for 10 or more passengers. You will arrive in style with any of these vehicles. Now lets talk party buses!
Party Bus
A party bus is a bus that has been overhauled on the inside to include awesome amenities!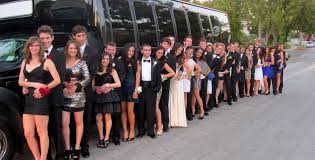 The seats have been turned into limo style so you do not  face forwards but face each other. Normally there is a dance pole, disco lights and flat screen TVs to play videos. There should also be an auxiliary or bluetooth to play your music list off you Ipad or cell phone! But not all party buses are created the same! For example, if someone gets an old bus and completely renovates the inside, you still have an old engine! The last thing you need is to break down on prom night! Read the fine terms.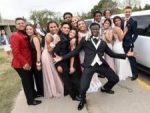 Make arrangements to go see the bus, what do the outside panels of the bus look like? If they have waves in the side panels then the bus is old. They will start the bus for you and dazzle you will everything on the inside, but while they are doing that, you check to see if the AC is blowing cold. Listen to the engine from the outside for strange noises while the AC is running. Look for loose wires along the walls of the bus and where the driver sits, if you dont trust it, walk away. Prom night should not consist of trying to get out of a bus that is on fire!
Other Prom Factors
If you have found a vehicle that you really want, you need to know if it has insurance just in case something happens. Although you do not need a CDL to drive all the vehicles, you MUST have a passenger endorsement on your license. You as a consumer should be able to ask if the driver has the correct licensing because if you get pulled over, you will be made to get off the bus and then what? Legal vehicles have the DOT (dept of transportation) number on the side, be sure to take down that number to verify with DOT that it is up to date. Motor carrier registration (TxDMV Number) is available for seven calendar days, 90 days, one year or two years. A motor carrier certificate of registration is non-transferable between carriers.
Get All Information In Writing!
All information that you agree to should be placed in writing, although verbal agreements are legal in Texas, to protect yourself, it should be in writing. Before you pay any money, you will need the price of the vehicle, any and all fees, will this include gratuity for the driver and will there be taxes? Explain that you do not want to come out of pocket for anything else. Get it in writing even an email confirmation will work. If you decide to use a broker like Limos.com or Price4Limo they will have guarantees but you will have to pay more money rather than renting straight from a limo company that actually owns the vehicles.
To avoid having all these problems hire a company you can trust! Check reviews all over the internet including the Better Business Bureau. Reviews are other people telling you what happened when they used this company.