Its that time again!
The merry land of Christmas Tours! Santa Clause! Sleigh Bells! Awesome Christmas Light Tours! And Gift Giving!!! Who doesn't enjoy giving and receiving gifts? Although over the years, the personal side of selecting that one special gift for that special someone has become not so "personal". We have traded shopping from store to store to gift cards and baskets, not very personable. At Price My Limo, we have tried to make the gift certificates "personal" by adding the person's name and event and also a special message from you. Come see if you would like to give a certificate for a limousine or party bus to your special someone.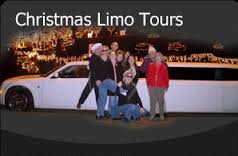 Normally around this time of year, our clients take a limousine with tinted windows to gaze at Christmas lights while enjoying their favorite cider or alcoholic drink. Oh and listening to a special playlist of Christmas tunes that they have on their phones connected to the speakers in the limo. There are several different places that you can enjoy a tour of lights or you can plan your evening to see several different ones.
Although it is a fantastic show of lights, the traffic backs up for miles and takes hours to get through. So you would need to rent a limousine for at least 6 hours. It has a starting drive-through entrance point is at the intersection of Randol Mill Rd and Westwood Dr in Arlington, Texas. Their website states that police help direct traffic, but every year, there is no police presence. On a good note, there are more than 200 homes in this Arlington neighborhood participating and have been enchanting visitors with their extravagant lights, decorations and displays for more than 35 years.
Free Holiday fun for the Whole Family Walk and wind through the 12-acre park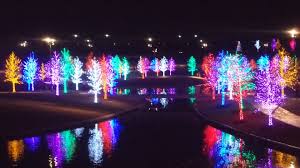 with millions of sparkling LED lights that are wrapped around more than 200 glittering trees. Creating this magical holiday wonderland the whole family will enjoy. Last year it began at the end of November and went through January 1st so the dates should be about the same for this year. Usually beginning when the sun starts to set.  Virtruvian Park, 3875 Ponte Ave, Addison, TX 75001.
The homes are beautifully (and professional) dressed for the holidays.- The best place to enter is at Armstrong Parkway and Preston Road.  The area is bordered by Preston on the east side, Mockingbird to the north, the Dallas North Tollway to the west, and Armstrong Parkway for an entrance.  Usually beginning at the end of November lasting till after Christmas.***The Walkway of Lights is open 6-10 p.m. nightly through Jan 1st, along Lake Marble Falls in Lakeside Park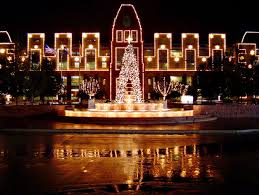 Kessler Park in Dallas
This tour has a wonderful neighborhood to view holiday lights. From downtown Dallas: go West on I-30. Take the Sylvan exit – turn left (south) on Sylvan. Travel about a half a mile on Sylvan to Colorado – go right (west) on Colorado.  Travel another half mile on Colorado to the intersection of Colorado and Lausanne. Look for a big traffic triangle at that intersection with five large trees. It's a free drive-through display.

The Pharr Family of Farmers Branch
They borrow their neighbors' yards to expand their huge light show throughout the neighborhood. Check out the kiddie train, ferris wheel, nativity scene and much more at 14535 Southern Pines Cove, Farmers Branch, TX from November through January. Hours: Sun-Thurs 6 – 10 p.m.; Fri – Sat from 6 – 11 p.m. Train runs 6-9 p.m. (weather permitting). Santa visits Fri-Sun. 6-8 p.m., weather permitting. Tune your radio to 95.9 to listen to seasonal music as you view the lights!
14535 Southern Pines Cove, Farmers Branch, TX 75234. Take Webb Chapel about 1.5 miles North of I-635 LBJ Freeway, turn right on Southern Pines Drive.
Viewing the display is free but donations of food, money and unwrapped toys are encouraged. The Pharr Family's Christmas Light Show benefits Metrocrest Social Services, a United Way Community Partner serving Carrollton, Farmers Branch, Addison, Coppell and ZIP Code 75287 in southern Denton County.
FRISCO

–

Christmas in the Square
This is a computerized light show featuring more than 175,000 lights choreographed to holiday music. The Magic Returns November through January. Frisco Square Property Owners Association presents the largest choreographed holiday lights and music show in North Texas. Christmas in the Square is in its 11th year full of established favorites and new surprises, too. Visitors can drive or stroll through the shops, restaurants and amazing holiday display around the square. Frisco Square, Main Street at Coleman Blvd Free Drive-thru display
Held each year in downtown Fort Worth, the Sundance Square Parade of Lights features over 100 illuminated entries, Cowboy Santas, marching bands, antique cars and more. This year's parade theme, "Unwrap the Magic," will feature even more professional floats, as well as our wonderful array of community-based units of all shapes and sizes. Street seats are available for a fee but there are also plenty of free viewing areas available. The parade starts at 6 p.m. November and runs from Belknap St to Commerce St, around 6th St to Houston St and up to Weatherford.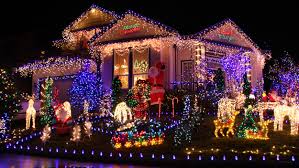 Deerfield is well known around Plano for our wonderful display of holiday lights on most of the neighborhood houses.  Please visit our website and click on the Holiday Information tab or CLICK HERE during the months of November and December for information on your next visit to Deerfield during the holiday season.  It's a festive drive you will never forget!  We would like to share with you just a little example of our holiday lights.  Click on the arrow in the center of the box below. Plano Deerfield is located in Northwest Plano between Preston Road and Coit Road. Enter from Legacy on Colonnade and Archgate, noting one-way and restricted-turn signs along Old Pond Drive and Hallmark Drive.