Ever wonder about the stories of the wild weddings? You try to cover every aspect to make sure your wedding goes smoothly, but it is the things that go wrong that make the greatest stories ever!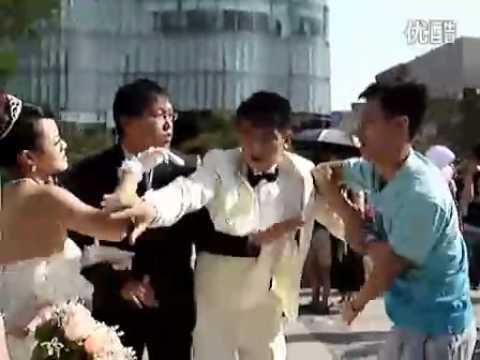 "Prior to the reception, my husband gave his older brother envelopes containing tips for the various vendors. With less than an hour left of the reception my husband approached his brother and asked for the DJ's envelope. He swore up and down that he had given the envelope back to my husband an hour prior. This enraged my husband, who had no recollection of this. Things got heated, words were exchanged, a punch was thrown and my husband actually had to be restrained. As I helped calm him down, he patted his pocket and found…the DJ's envelope. Guess he had had more to drink than he realized." – Nicole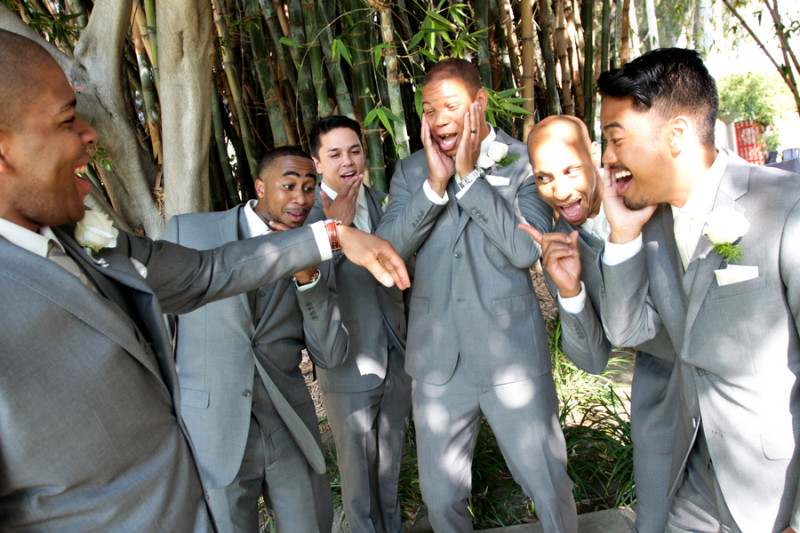 My new husband left the reception for about two hours. We all started searching for him everywhere! We finally found him smoking weed with the groomsmen outside in the woods. He was so high, I was holding him up to do our first dance, but he had no problem with me shoving the cake in his mouth! – Stephanie
"I got my period (completely out of the blue and a full week early) on my wedding day. Unfortunately, my sister was the one to discover this while helping me go to the bathroom two minutes before I was supposed to walk down the aisle (all I could see was miles and miles of white satin). I had EIGHT bridesmaids, two female photographers, two of my groomsmen's girlfriends, and 3 different emergency kits in that little room, but not. one. damn. tampon. Various members of my wedding party then had to approach complete strangers in an art museum whispering for sanitary products. 15 minutes later, one of my girls produced an applicator-less tampon. I had NEVER seen one before so I had to ask how they worked. So yeah, I had to blindly finger myself on my wedding day in front of a roomful of people giving me verbal guidance."- Amanda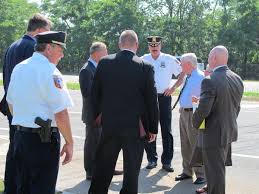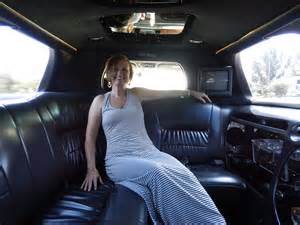 "We ordered the limo at least 2 months early and my maid of honor whispered in my ear when it pulled up. Just like teen age girls we ran to the window to see! The driver got out and walked towards the church and I have never been so excited! I remember seeing the driver as I walked down the aisle. We went through the whole ceremony and as we opened the doors, the very pretty, shiny limousine was gone! The driver was standing where the limousine was and on the phone. Then the police arrived and took reports, but the limo service sent out a nice town car to take us away from the wedding (at no extra charge). – Julie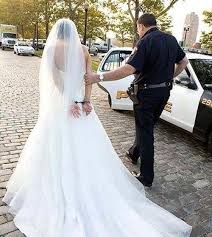 A Michigan bride was busted on her wedding day. Police stated that the woman was wanted on a three-year old felony warrant for identity theft and police believed that she had moved to Florida. Tips came in from people in the area that the woman would be returning to the Jackson area for her wedding on Saturday… so along with the groom and guests, police waited at the church for the bride.  As soon as the couple said their vows, the bride was arrested by a Blackman Township police officer. Police let the couple take their wedding pictures and offered to let her change out of her gown before being brought to the police station to be booked, but she declined the offer and was booked in her wedding gown.  The new bride was picked up from the police station by her husband after posting bond. What a great story to tell your future kids!
Never let the things that go wrong bother you, they make the greatest stories!
Book your wedding limousine today!