Why Celebrate Quinceañeras?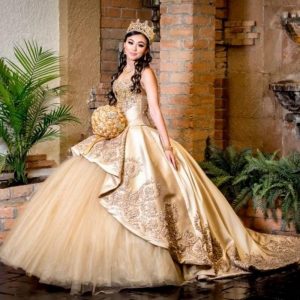 In early Mesoamerican and Spanish societies, quinceañeras marked a girl's passage from childhood to becoming ready for marriage.
Girls were taught traditional homemaking skills, such as weaving and cooking, to prepare for marriage and children. When a young woman turned 15 years old, a celebration marked the occasion when she was considered an adult and was introduced into society in hopes of finding a husband.
Traditionally, the quinceañera was also the time when a young woman was given her first real jewelry, including a tiara, and officially allowed to wear make-up, dance in public, and make decisions. Today, it's more about her becoming a woman.
Quinceaneras are about money anyway!
Although this celebration does take funds to organize, it has never been about money. Every focus is on the young girl becoming a young woman.
Many quinceañeras begin with a special Mass/church service with her parents, godparents, and court of honor (damas and chambelanes, usually 7 to 15 pairs of her friends and peers) in attendance.
This is a beautiful ceremony where the girl receives communion and commits herself to God and is the most intimate part of her day. The Quinceañera walks down the aisle, meets the priest at the altar, where a special chair has been placed for her. A reading has been designed completely for her, once completed, she is presented before God as a woman with a tiara.
What About The Reception?
Make sure to chose a venue that can accommodate everyone invited. This is a very special day that everyone wants to see!
Ring: The Quinceanera is often given the gift of a ring during her ceremony which symbolizes the infinite love of God. This is sometimes gifted to her by her Padrinos.
Changing of Shoes: This is more often done at the reception before the Quinceanera waltz. The Quinceanera changes from her flats into high heels, to symbolize her change from girl to woman.
The Last Doll: This is another symbol of the end of the Quinceanera's childhood. The Quinceanera is gifted her last doll, which she passes along to a younger girl.
Ask PML about the 3 hours Quinceanera/Sweet 16 Special!